Jul
11
Tue
Group Leadership Coaching Program
Jul 11 @ 4:00 pm – Dec 12 @ 8:00 pm

Group Leadership Coaching Program
At the Arts & Business Council (A&BC), we understand the difficulties faced by arts leaders who have recently taken on a senior position in a nonprofit organization. With the added pressure of the pandemic, these leaders are expected to manage their staff, engage with their boards, and envision new models for transforming work culture to support equity.
That's why we're thrilled to introduce our latest offering, the "Group Leadership Coaching Program." This six-month pilot program is designed to empower 10 arts leaders from 5 organizations to solve complex issues and lead their organizations with confidence.
As a participant in this program, you'll be one member of a cohort of ten arts leaders from five nonprofit organizations. Through group and individual coaching sessions, you'll build meaningful relationships, receive ongoing support, and solve complex problems together.
The Group Leadership Coaching Program is specifically designed for arts leaders who are new to senior roles and are grappling with the pandemic's impact. Our goal is to provide a supportive space for you to navigate complex issues and develop your leadership skills. Please read the eligibility criteria below to find out if you can apply to this program!
We're accepting applications from two senior leaders within the same nonprofit, the "lead applicant" being the new arts leader and the "second applicant" being a staff or board member. This approach will help you leverage capacity building, create a shared understanding of key concepts, and bring back the knowledge to your organization.
We're proud to collaborate with Emmanuel Neal, a Management Consultant, Executive Coach, and Ph.D. candidate at the Chicago School of Professional Psychology, to bring you this program.
If you're a new arts leader looking to develop your skills and build a supportive network of peers, we encourage you to apply for the Group Leadership Coaching Program. This is your chance to work with a colleague to create team alignment and navigate this time of transformation together.
About the Coaching Program
The International Coaching Federation defines coaching as partnering with clients in a thought-provoking and creative process that inspires them to maximize their personal and professional potential. The process of coaching often unlocks previously untapped sources of imagination, productivity, and leadership.
The Group Leadership Coaching Program will be co-facilitated by four executive coaches, including Emmanuel Neal, who has been coaching arts leaders for 10 years and has been a volunteer for 3 years with A&BC's Business Volunteer for the Arts® program.
While Emmanuel and his colleagues are consultants, this program's nature is to offer 1:1 coaching and encourage group dynamics to solve problems together. To that end, this program is not a consulting service; we won't be reviewing grants, business plans, or any other consultative tasks. Instead, you will share your current challenges with your cohort and collectively get actionable insights and tools to solve them together. Read about the coaching topics below.
Format:
Group coaching sessions with all organizations
1:1 coaching with (only) new arts leaders (lead applicant)
Duration: July – December 2023
Time commitment: 3 hours per month
Group sessions last 2 hours, and meet once per month in person.
Individual sessions last 1 hour, and meet once per month online.
The group sessions (2 hours long) will be held on Tuesday evenings between 4 pm to 8 pm. The exact times will be determined with participants after acceptance:
July 11th – 1st session
August 8th – 2nd session
Sept 12th – 3rd session
Oct 10th – 4th session
Nov 14th – 5th session
Dec 12th – 6th session
Location: Hybrid. Group sessions will meet in person (TBD cohort member locations) and individual coaching will be conducted through Zoom.
Topics: The group session topics will be collectively decided based on the general areas shared below
Leadership Development
Team Building and Collaboration
Creativity and Innovation
Emotional Intelligence
Career Development
Stress Management and Resilience
Financial Management
Marketing and Audience Development
Diversity, Equity, and Inclusion
Legal and Compliance
Board and Governance
Strategic Planning
Coaches (bios below):
Emmanuel Neal, Management Consultant and Executive Coach, Ph.D. Candidate at the Chicago School of Professional Psychology
Laticia (Dr. Tish) Thompson, Ph.D., Founder & Chief Business Psychologist at Legacy Blueprint, LLC
Chandra McPherson, Ph.D., Founder CLM Executive Coaching & Consulting
Lawrence James, Ph.D., Managing Partner at Lawrence James Jr & Associates
Cost: Participation in the program is free.
Eligibility Criteria
For this pilot program, we are seeking new leaders (executive, administrative, or artistic staff) to apply with a another/ second leader (staff or board) from their organization. We define "new leaders" as having been in their current role for less than 18 months.
To qualify for this opportunity, your answers to the following statement must be "yes":
The lead applicant is a senior staff leader who has been in their role for less than 18- months
The applicant is representing a Chicago-based arts organization that has been in existence for at least 7 years
The organization has a board of at least 5 members, not including staff
Another leader (staff or board) within the organization has agreed to participate in this program. (It is not necessary for the second applicant to be new to their role.)
The coaches with A&BC staff will evaluate applications based on:
Organization's commitment to racial equity
Alignment of motivations and needs with the program's coaching topics
Availability to attend group coaching sessions.
Application Process
Please follow this link to submit your application before April 16th, 2023, 5:00 pm CST.
We recommend having the following documents handy before applying:
IRS letter designating 501c3 status
Bios of applicants if no LinkedIn or website link
All Applicants will be notified by A&BC no later than May 5, 2023. Five organizations, with two leaders from each, will be invited to join the cohort.
If your organization is invited to be a cohort member, the Lead Applicant will be required to reply by May 12, 2023, agreeing to:
Officially join the cohort and engage in 1:1 and group coaching between July and December 2023
Complete the survey to indicate topics for group coaching sessions
Read and accept the standards of conduct
Attend 4 of the 6 group coaching sessions
Complete a post-engagement survey
In the meantime, please save the dates of the 6 group coaching sessions to be held on Tuesdays evenings between 4 pm – 8 pm:
July 11th – 1st session
August 8th – 2nd session
Sept 12th – 3rd session
Oct 10th – 4th session
Nov 14th – 5th session
Dec 12th – 6th session
If you have any questions, please contact Kristin Larsen, A&BC's Executive Director, at klarsen@artsbiz-chicago.org, and Emmanuel Neal at emmanuel.neal@hotmail.com.
Coaches
Emmanuel Neal is a coach, consultant, and creative individual currently pursuing a Ph.D. in Business Psychology (Consulting) at The Chicago School of Professional Psychology.
He takes an inquiry-based, facilitative, and experiential approach to coaching, recognizing each client as a whole person and subject matter expert. Emmanuel aims to serve as an accountability partner and accessible resource to help clients grow both personally and professionally. His coaching style is empathetic, patient, direct, and aligns with organizational goals.
Emmanuel holds a Master's in Arts Management from Columbia College Chicago and is a member of the Society of Consulting Psychologists and the Institute of Coaching through Harvard/McLean Hospital. He volunteers as a consultant with the Arts & Business Council of Chicago and serves on the board of the Chicago Human Rhythm Project.
Dr. Laticia (Tish) Thompson, Ph.D., is a renowned business psychologist, Founder, and Chief of Legacy Blueprint, LLC, a management consulting firm that helps people develop respectful and productive relationships in the workplace. With a Master of Science in Management and Organizational Behavior, Dr. Tish recently completed her Ph.D. in Business Psychology from the Chicago School for Professional Psychology, emphasizing consulting.
Dr. Tish's ability to bring about sustainable change in organizations and create fun and thought-provoking learning experiences is widely recognized. She has received the title of best-selling author for her personal story titled "I Am Not My Hair," and her TEDx talk "I Am… Bold, Bald and Beautiful" showcases her expertise in leadership, change, organizational culture, and self-discovery.
Dr. Tish is passionate about working with organizations across various industries that value people as their most valuable asset and strive to build the best possible organizational culture. Her approach to driving change is engaging, empathetic, and insightful.
Dr. Chandra L. McPherson, Ph.D., is the Founder and Principal Business Psychologist of CLM Executive Coaching, LLC, a management consulting firm that specializes in empowering Sales Managers and their teams to effectively manage rejection and stress in the workplace, enabling them to excel in their sales roles. Dr. McPherson is a leading authority in teaching women how to use positive psychology and transformational tools to enhance their happiness, improve communication skills, and eliminate overwhelm and self-sabotage in the workplace.
With over 10 years of experience in sales, starting with Xerox Corporation, Dr. McPherson inspires other women in sales to love their jobs and lives by avoiding burnout. Her areas of expertise include sales, leadership development, transformational thinking, organizational culture, and executive presence. She has shared her knowledge and upcoming book, "The BOUNCE Method, 15-Proven Techniques to Help Professional Women BOUNCE from Misery to Excellence!" as a frequent guest on various podcasts.
Dr. McPherson holds a Ph.D. in Business Psychology from The Chicago School of Professional Psychology, Los Angeles, with an emphasis in Coaching and Consulting. She completed an ICF-Certified Coaching program from The CaPP© Institute to improve her coaching techniques. She earned a bachelor's degree in psychology from Washington University in St. Louis and a master's degree in communications from National Louis University. Dr. McPherson finds inspiration in working with family-owned businesses and women in sales to help them develop a refreshed and inspired mindset, empowering them to achieve their goals.
Lawrence James, Ph.D., is a thought leader in the areas of diversity, inclusion, & belonging, executive development, and executive assessment. Showing a powerful mix of inquisitiveness, insight, and drive, he is an innovator known for his willingness to challenge existing paradigms and create new ones. He has developed a holistic, integrated, and systemic model for growing diverse talent which has been detailed in his seminal white paper "Journey to the Top: developing African-American Executives," as well as numerous blogs.
With his forward-thinking and innovative whole-organization approach to talent development, he has been an invited keynote speaker at a variety of conferences, symposia, and corporate roundtables. Recently, he was selected to be co-editor of a special issue in the Consulting Psychology Journal entitled "The State of Black Leadership: What Can be Done to Create Sustainable Change," which will go to press in March 2023.
After 12 years as a partner with RHR International, a premier boutique leadership development consultancy, he started his own consultancy focusing on the systemic development of diverse talent from assessment to coaching, inclusive leadership training and development, diversity strategy and advisory services, and organizational transformation. He is an expert in helping corporations develop cultures of belonging, inclusion, and diversity—so that all employees thrive. During his tenure at RHR, he co-created the firm's diversity, inclusion, and belonging practice area and co-led the service. Internally, he coauthored the design, strategy, and intervention plan for the companies' own internal journey which led to an over 40% increase in the hiring of diverse talent coupled with improved employee engagement scores firmwide.
Lawrence received his BA in psychology from the University of Illinois at Urbana-Champaign, a master of education in counseling psychology at Howard University, and a Ph.D. in clinical psychology from Southern Illinois University at Carbondale. He is a licensed psychologist in the state of Illinois and is a member of several professional organizations.
Nov
29
Wed
On BOARD 2023: Board Cultivation. Actionable Insights on Board Recruitment, Engagement & Assessment

@ Online
Nov 29 @ 10:00 am – 11:30 am
At the Arts & Business Council of Chicago, we are creating a world where creativity is universally valued as a resource with limitless potential for social and economic impact. We are an arts service organization focused on serving Chicago's cultural workers and enterprises through consulting, programming, and mentorship to ensure community vitality and an equitable creative economy. 
One of the ways in which we fulfill our mission is through On BOARD®, the Arts & Business Council of Chicago's unique board governance and leadership training program. Throughout six sessions we prepare individuals who are ready to engage as active board members of arts, cultural, and creative nonprofit organizations to successfully understand and own their role as board members.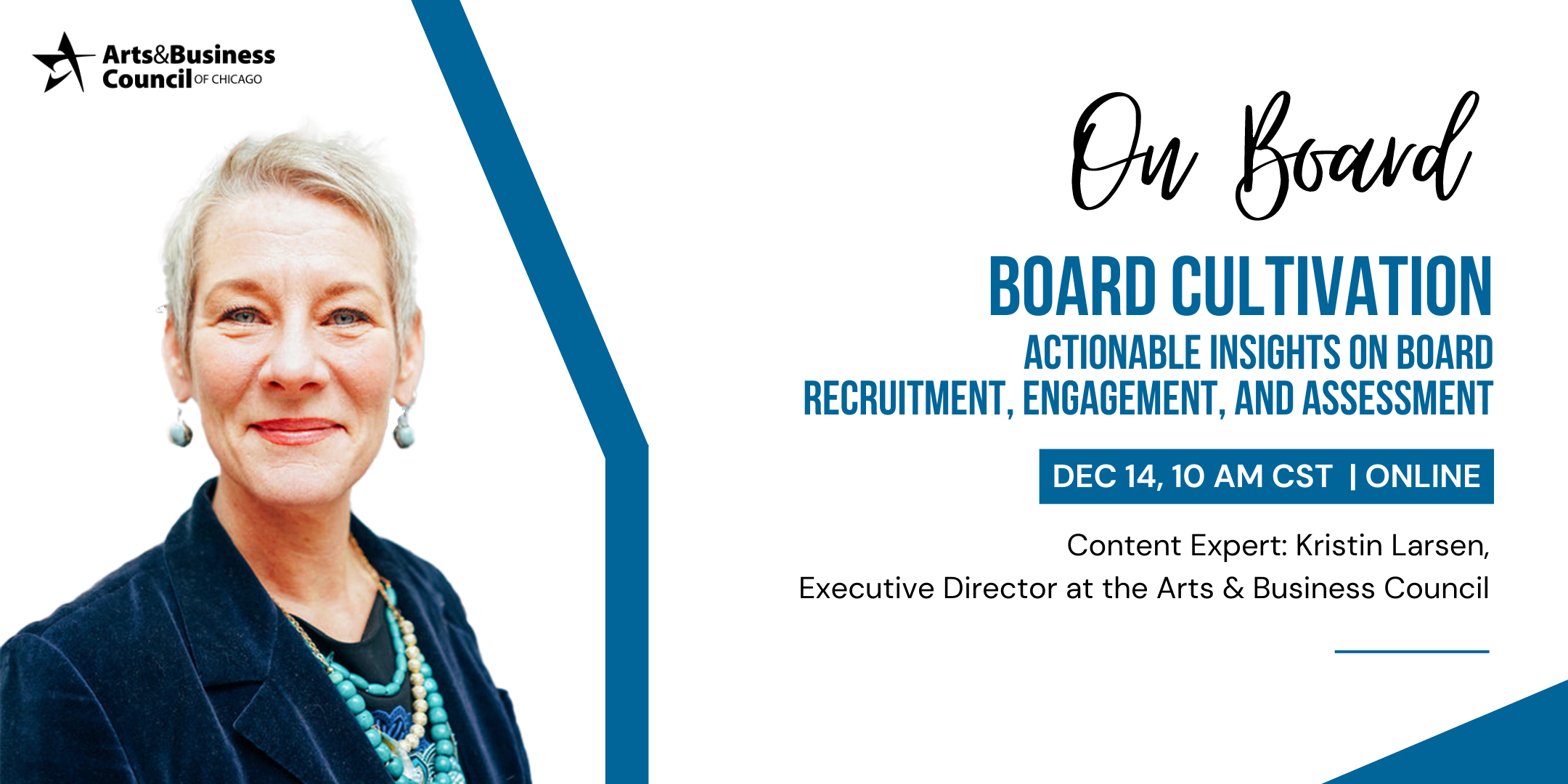 On BOARD®: Board Cultivation. Actionable Insights on Board Recruitment, Engagement, and Assessment 
A superb board member brings a combination of time, treasure, and talent to an organization. So why do we continue to evaluate and prospect board members strictly on their treasure 'capacity'? If a board of directors is to reflect the community it serves, the sector must consider more equitable qualifications.   
Arts & Business Council of Chicago (A&BC) Executive Director Kristin Larsen will present her innovative, point-based, planning and assessment model to engage boards of directors. Larsen will guide you through using game theory and a points-based evaluation system to reduce anxiety around giving capacities and create an equitable board of directors that is welcoming to groups that have been historically marginalized.  
In practice, Larsen has seen this fresh accountability system increase committee participation, mobilize current board members to prospect new members and donors and ignite a sense of self-governance that reduces stress and time for the Executive Director. You'll leave this lab with an action plan to define the entire scope of what your board of directors can bring to the organization and design your own point-based assessment model that's not all about the give/get.  
We encouraged Executive Directors, Artistic Directors (directly interfacing with board of directors), Board Presidents, and Chairs of Board Governance committees to participate in this session.
Learning objectives  
Attendees will understand how to translate their board's Roles & Responsibilities into supporting the organization's annual operating and work plans

 

Attendees will understand how to use this tool to ease board recruitment practices 

 

Attendees will gain skills in motivating current board members to contribute to prospecting and communicating within their own networks 

 

Attendees will understand how to utilize this tool to increase committee participation and motivate self-governance, reducing their stress and time in board management 

 

Attendees will understand how to use this tool to increase board attendance at special events and fundraisers; also motivate board members to bring new guests to special events and fundraisers 

 

Attendees will gain knowledge of how this tool can create board equity (socioeconomic, gender, race, access, etc.) 

 

Attendees will expand the tenure of their board members using this tool as it presents a visible and tangible representation of a board member's contributions

 
Content Expert: Kristin Larsen, Executive Director at the Arts & Business Council of Chicago.
Kristin rejoined the Arts & Business Council of Chicago in 2017 after serving as Director of Programs in the early aughts. Prior to returning to A&BC, Kristin was Executive Director of Stage 773 (2013-2017), a performance venue in Lakeview, Executive Director of Remy Bumppo Theater Company (2002-2012), and a business representative with Actors' Equity Association (1995-2000) after many years of being an Equity Stage Manager.
Kristin has her BFA in production management from The Theatre School at DePaul University and her MA in facilitating organizational effectiveness in the arts from DePaul University's School for New Learning. Kristin serves on the Americans for the Arts Private Sector Council, The Entertainment Fund's Central Region Advisory Council, and volunteers with DePaul's Alumni Sharing Knowledge program and the Joseph Jefferson Awards Committee.
Price: $50
Session Duration: 90 minutes