Nancy Antunez
Sr. Consultant
Clerestory Consulting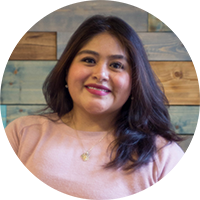 What do you love most about volunteering with A&BC?
I love the ability to meet new people, help them with their current need by applying my skill sets, and most importantly seeing the results of our project being utilized.
What does volunteering add to your life? 
I love volunteering with A&BC and the consultants, the value that we can bring to non-profits in need is truly rewarding. Personally, it provides me with an opportunity to meet and help people that I may not have had to have the opportunity to and professionally, it provides the ability to interpret my work from a different lens. It keeps me on my toes!
What are some of your other interests? 
I enjoy traveling, reading, learning about people and their experiences.
What goals have you helped organizations reach? Understanding the requirements to go from a volunteer group to a junior board, facilitate a difficult discussion among the board to decide on a new director.
Fun stuff: favorite food, pets, season, secret talent? 
Love all kinds of food, red wine, summers in Chicago! Lou Malnatti's anyone?
-Nancy Antunez, BVA Consultant