Contributor: Braden Cleary / Director of Arts Services
Board governance is one of the most pressing issues facing arts, cultural, and creative organizations today. And it's no surprise. As historically white organizations in the sector begin to think more deeply about equity, diversity, and inclusion, the first statement I hear is typically, "we need to diversify our board."
It's true – you do. We do. Because candor is essential at the Arts & Business Council of Chicago (A&BC), I'll share that our board of directors does not fully reflect the demographics of the communities and individuals that participate in our programs. After a thorough racial equity audit with Justice Informed, A&BC is breaking down barriers for engagement across our organization – barriers that historically made us pretty inequitable and pretty white. By creating a foundation for equitable participation, it's our hope that community partners, corporate partners, and potential board members will more fully see themselves in A&BC.
Engaging in these conversations about equitable recruitment and board governance always brings me back to community engagement. At our recent Board Leadership Lab at the Chicago Public Library – Little Village Branch, I trained staff members, board members, and individuals interested in joining a board of directors on nonprofit organizational structures and the responsibilities associated therein.
We were extremely lucky to be joined by William Estrada, an artist with deep ties to Little Village and significant board experience, and J. Omar Magana, the Founder and Executive Director of OPEN Center for the Arts. Both spoke to Board Leadership Lab participants about their experiences working in a community where parachute community engagement happens often. William and Omar described that artists and organizations can have a tendency to drop into the community to create a mural or host an event because that artist or organization has received funding to do a project that serves a community historically or systemically deprived of resources. Once the mural is complete or the event has culminated, the artist or organization leaves never to be seen again. This type of parachute engagement can be damaging and leads to culture shifts, removing wealth from a community, and gentrification. William and Omar both noted they've gotten pretty good at sniffing out parachute projects and have many times denied them. In fact, Omar let us know that whenever OPEN Center for the Arts is approached by an artist or organization outside of the Little Village community to collaborate on a project, he first asks them to partner with the local public schools to reinforce their intention to truly better the community, not just themselves.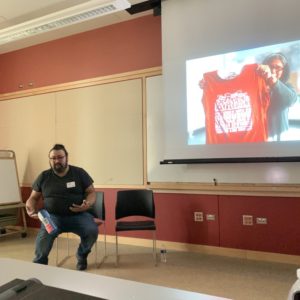 So, as we (including A&BC) think about diversifying our boards of directors and sourcing new members from communities with whom we may not have existing relationships with, parachuting cannot be an option. Building relationships takes time. Go to new communities. See all of the art, culture, and creativity you can. Spend money at local businesses. Listen and learn everywhere you go. Change happens outside of our comfort zones, and we must be willing to adapt our practices to make our boards as welcoming and equitable as possible. I think we'll all be better for it.
Check out upcoming events at or reach out to bcleary@artsbiz-chicago.org to learn more about getting involved with connecting art and business in Chicago.