Rosetta Bowie
Healthcare Strategist
RCN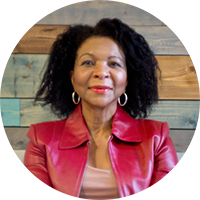 What do you love most about volunteering with A&BC?
Volunteering with A&BC has provided me an opportunity to serve a community that enriches so many lives including mine. I enjoyed the wonderful people I've me on the client side as well as other volunteers and at A&BC. I enjoyed being a part of the growth experienced by the team I worked with and the sincere gratitude expressed by the clients.
What does volunteering add to your life? 
Volunteering has enhanced my self-confidence in personally and professionally. Existing skills are valued appreciated by clients and peers. New skills and new relationships are developed. Volunteering provides me with a real sense of purpose.
What are some of your other interests?
I enjoy writing, traveling, theater.
What goals have you helped organizations reach?
Work flow analysis, marketing analysis & research, strategic planning & business development.
Fun stuff: favorite food, pets, season, secret talent?
I enjoy improvisation & cooking. Summer is my favorite season. I'm a fairly good carpenter.
-Rosetta Bowie, BVA Consultant