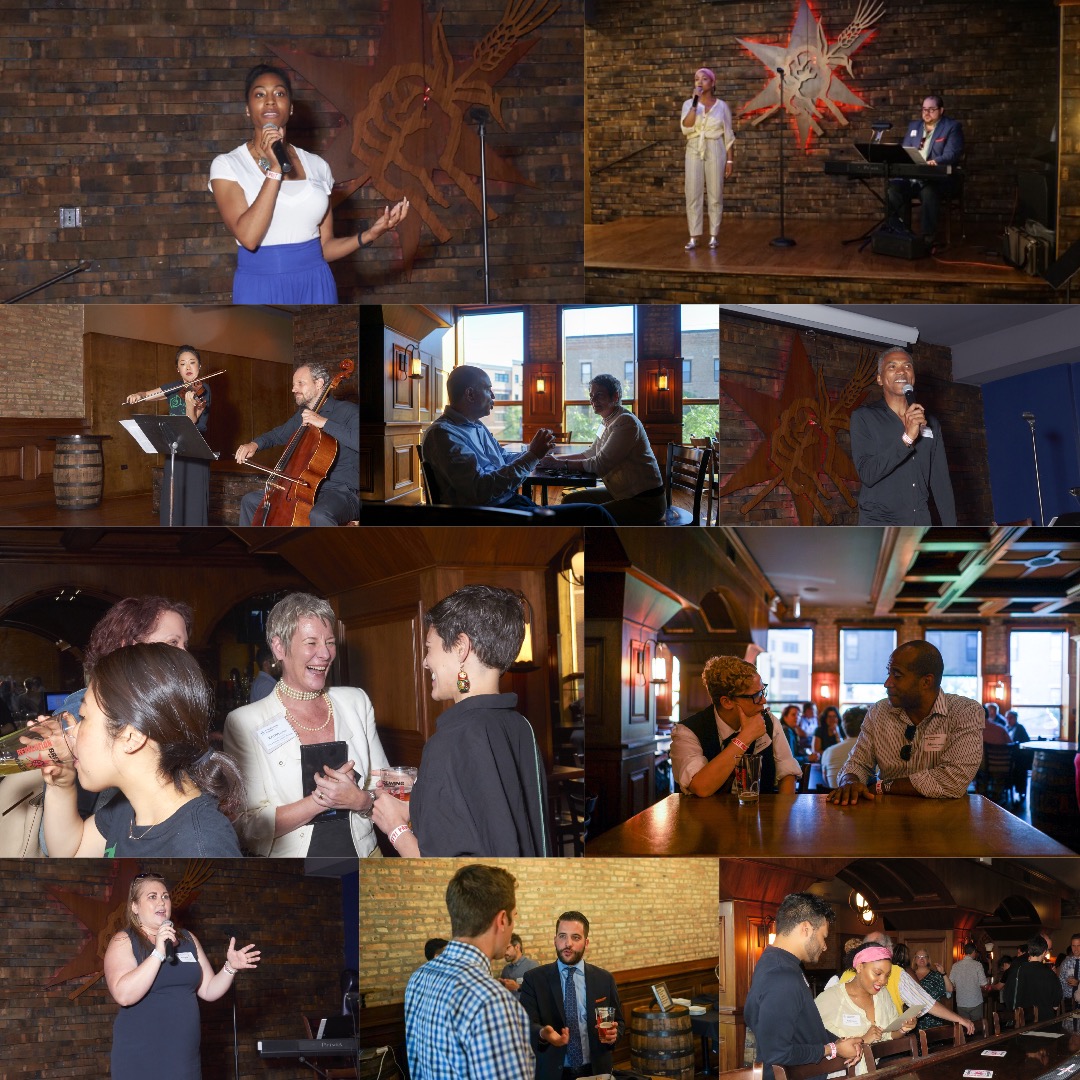 Great food, craft beer, and incredible performances from Chicago artists. Who could ask for anything more?
Last Tuesday's Summer Bash, the annual networking fundraiser hosted by the Arts & Business Council (A&BC), brought together arts administrators and business volunteers to celebrate their work in strengthening Chicago's creative and culture economy. The event celebrated business volunteers who have displayed outstanding effort and dedication to A&BC projects and featured amazing performances from Chicago's own Crossing Borders Music Collective and Porchlight Music Theatre. A&BC honored Megan Angle and Kristen Evans for their outstanding work in bettering Chicago's arts and business community through their volunteerism. A&BC also honored Pierre Lockett, Executive Director of Forward Momentum Chicago, for their tremendous work and passion to bettering Chicago's artistic landscape through partnerships with business volunteers.
Each year, Summer Bash recognizes individuals who demonstrate excellence and leadership in their volunteerism and work with A&BC. Megan Angle, CPA of Porte Brown, LLC, serves as an instructor in our On BOARD and Learning Lab programs. Angle has graciously shared her financial expertise with many of our On BOARD trainees and arts administrators to establish and implement financial controls within their organizations. Kristen Evans, a Senior Marketing Research Manager at Kraft, is an avid BVA member who has shown amazing dedication to bettering Chicago's arts and business community since engaging with A&BC in 2015. Since then, Evans has worked on 4 BVA projects, serving as a team lead for 2 of them, and is currently completing her 5th BVA project with Forward Momentum Chicago (FMC). In the process of working on a Retreat Facilitation project with FMC, she also became their newest board member. Evans is an excellent example of how business leaders are crucial to the success of nonprofit arts organizations and how A&BC strives to connect those partnerships in our community.
Although Forward Momentum Chicago is only 5 years old, their partnerships with A&BC have spurred amazing growth, expanding their impact to hundreds of students throughout 25 Chicago Public and Charter Schools. FMC strives to provide affordable, high quality dance education programs to youth and adults in underserved communities. After 20 years of dancing professionally, Pierre Lockett turned his attention to inspiring youth through invigorating dance programs. Since 2015, FCM has completed 4 BVA projects with A&BC to help with strategic planning, HR management, board development, and retreat facilitation. They will also be participating in the upcoming session of On BOARD, our professional board member training and matching program. Lockett addressed how he believes that partnerships with business leaders are necessary for arts organizations to flourish, recognizing how business volunteers have taught him numerous lessons that he never would have experienced from his artistic background. Visit Forward Momentum Chicago to learn more about their amazing work!
Summer Bash may be over, but A&BC still has plenty of exciting events coming up! Join us on July 25th for our Learning Lab, "It's Not All About Give/Get: A New Model for Board Contribution". The event will be presented by A&BC Executive Director Kristen Larsen and Board Governance Chair Evan Trent. Register today!