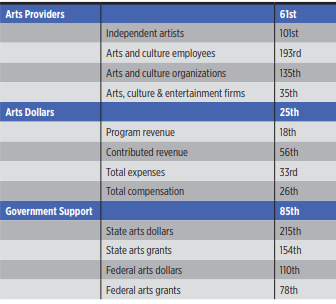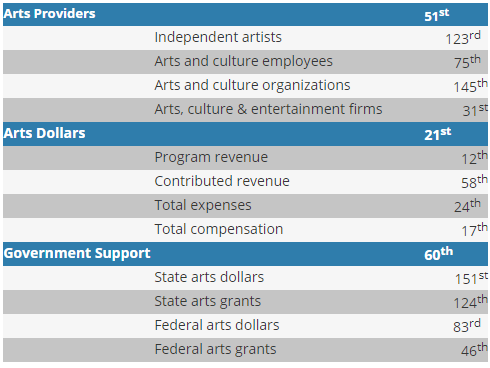 This update is second in a series of blog posts we are curating in response to Chicago's declining arts vibrancy as reported by SMU DataArts. Check out the first post here.
Looking at these figures, we're immediately drawn to the loss of independent artists and arts and culture organizations. According to a report by SMU DataArts, Chicago's ranking for independent artists dropped from 101st to 123rd (-22%) and the ranking for arts and culture organizations dropped from 135th to 145th (-7%) in 2018. This loss of the creative workforce directly aligns with Chicago's three consecutive years of population loss. The Chicago Tribune reports that Chicago lost an estimated 13,000 residents in 2017 alone.
So where are the individual artists and arts organizations going? It's important to note that more than 25% of the communities are entirely new to SMU DataArts's ranking of The Top 40 Most Vibrant Arts Communities this year and we imagine this trend of emerging culturally-vibrant areas may continue if Chicago continues to lose its population (creatives included). According to The Guardian's recent piece, Welcome to suburbia: the millennials done with city life – and city prices, people have historically moved one of two places: where they could get a job or where their family lived. The article considers that residents, specifically millennials, are considering, "which place can provide me with the best quality of life?" With such a profound population loss, it seems like Chicago might not be the answer for them.
The City of Chicago must consider retention of its talent and workforce including creative individuals, organizations, and companies. We're hearing from many individuals that the sad state of the Illinois state budget is causing a loss of confidence in Illinois and depleting the creative talent in our city. What programs, policies, or action can we advocate for that will provide better support systems for artists?
In 2014, The Cultural Policy Center at The University of Chicago report, Public Funding For Art: Chicago Compared With 12 Peer Regions, revealed that although Chicago arts organizations receive among the greatest amounts of public funding in total related to the twelve peer regions, a relatively small portion comes from the city's Department of Cultural Affairs and Special Events. The Department of Cultural Affairs and Special Event's funding levels have been among the lowest of the 13 cities/regions studied on both a per capita basis and in terms of total dollars from 2002 – 2012. In 2012, Chicago's Department of Cultural Affairs and Special Events awarded $1.2 million in grants, which is $0.44 per capita. Of the 13 local agencies analyzed, only Phoenix, Boston, and Baltimore funded less in total dollars or per capita in 2012 (Novak-Leonard & Baach). It's plausible to believe that artists may be relocating to areas that have a greater amount of public funds available and / or non-competitive publicly-funded grants.
As we've been chatting with folks about this blog series, it was brought to our attention that while Chicago's government support ranks low (but has improved from 2017 to 2018), it might be important to highlight the The Chicago Park District's annual budget funds cultural institutions like Lincoln Park Zoo, the Garfield Park Conservatory, and many neighborhood cultural events – $42 million worth in 2017. This is a fantastic investment. Nevertheless, few of the Chicago Parks District funding opportunities support the general operations of Chicago's arts and cultural organizations – especially those in Chicago's neighborhoods – which we feel is beneficial for longer-term sustainability of an organization or entity. We don't have information about the immediate state of the Department of Cultural Affairs and Special Events's funding amounts. Perhaps they tell a different story.
Do you know of any artist support systems that are working in other cities? Affordable housing? Fiscal sponsorship? Live / work spaces? Tell us about them! Funding can be important but is absolutely not the only solution to recognize and support the contributions artists bring to a community.
Keep an eye out for our next post, where we will consider Chicago as a rising star in innovation and explore how we might leverage our city's creative economy to increase our cultural vibrancy.