When:
September 21, 2022 @ 10:00 am – 11:00 am
2022-09-21T10:00:00-05:00
2022-09-21T11:00:00-05:00
At the Arts & Business Council of Chicago, we are creating a world where creativity is universally valued as a resource with limitless potential for social and economic impact. We are an arts service organization focused on serving Chicago's cultural workers and enterprises through consulting, programming, and mentorship to ensure community vitality and an equitable creative economy. 
One of the ways in which we fulfill our mission is through our Learning Labs Program. Learning Labs provide opportunities to start new conversations about non-profit management with a particular focus on arts + culture. The goal of this program is to continue discussing solutions for challenges faced across the sector. 
About Learning Lab: Grant Writing, Building a Successful Case for your Project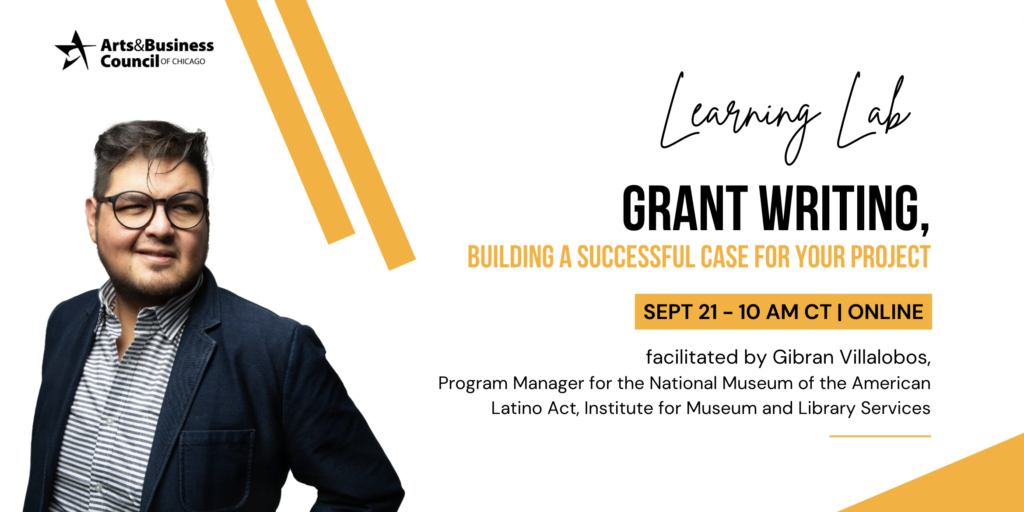 Support for nonprofit arts organizations and art makers in Chicagoland drastically increased in 2022 and is expected to continue growing throughout 2023. Grant amounts from the city and state are larger, their terms are more flexible, and the application process is less rigid. When it comes to private foundations, a similar case is happening. 
However, even if there are more funding opportunities, the chances of getting funds will largely depend on the applicant's ability to effectively build their case and present a successful grant application. 
In view of this exciting scenario, the Arts & Business Council offers a Learning Lab on Grant Writing where participants will gain insights into communicating effectively with prospective funders.  
During this workshop, attendees will get tailored advice on building a case for their project or organization. This session focuses on philanthropic foundation and government grants for arts organizations, although some underlying principles around proposal writing apply to individuals.  
Content Expert: Gibran Villalobos, Program Manager for the Institute of Museum and Library Services. Read below for full bio.
Topics covered during the session 
Brief History of Nonprofit Funding

 

Anatomy of a Grant Application, with a focus on narrative, timeline, budget, and impact/evaluation

 

Case Studies: Critically Examining Writing Samples

 

Creating Your Case: Share your Elevator Pitch 

 
Topics not covered 
Identifying relevant government and private foundation funders

 

Types of foundations and other funders

 

Types of proposals and submissions

Application for research grants

 
We encourage participants to prepare a one-paragraph pitch for a project they want to get funded.  
Price: $30
Content Expert: Gibran Villalobos (he/him) is the National Engagement Program Manager for the Institute of Museum and Library Services to help in the establishment of the National Museum of the American Latino. Previously, he has held posts as Assistant Curator at the Museum of Contemporary Art Chicago, Partnerships and Community Engagement Manager for the Chicago Architecture Biennial, Cultural Liaison for the Chicago Park District, and Curator-in-Residence for the Chicago Cultural Center.
In 2016 he attended the Advocacy Leadership Institute and was invited to the White House Office of Public Engagement, the National Endowment for the Arts, and the Congressional Hispanic Caucus to speak to issues affecting Latinos in Chicago. In 2017 he launched an inaugural summit of Latinx artists and administrators across the U.S; for this project he was awarded the Act Up Award by the Chicago Community Trust.
His work has been presented at the Fabrica de Arte Cubano during the 2017 Havana Biennial. In 2019 he was an inaugural recipient of the Field Foundation's Leaders for a New Chicago Award as well as the Americans for the Arts 2019 Leaders of Color Fellowship. In 2020 he was accepted to the CivicLeadership Academy at the University of Chicago Harris School of Public Policy where he worked with government and nonprofit sector participants to think about effective policy for Chicago's cultural industries. He serves as Chair of the Chicago Artists Coalition Board of Directors. He has taught graduate and undergraduate courses at the School of the Art Institute of Chicago in the Department of Arts Administration & Policy.
Gibran holds a BA in Art History and a BS in Public Relations from Northern Arizona University and an MA in Arts Administration & Policy and MA in Modern Art History & Theory from the School of the Art Institute of Chicago.
He has contributed to exhibitions such as Direct Message, presenting the artwork of Chicago artistic collectives and their relation to language and civic engagement. As part of an international project, he has convened the MCA Chicago with the Tate Modern, the Metropolitan Museum of Art, the Queens Museum, and other institutions to create dialogue on civic engagement within contemporary art institutions. He has written catalog entries for Iñigo Manglano-Ovalle, Rodrigo Lara Zendejas, and Jeremiah Hulsebos-Spofford. In 2021 he is contributing to the upcoming retrospective on the work by artist Andrea Bowers focusing on the activism and archives of Emma Lozano. He is curator of the symposium Fractures: Creating Around Devastation focusing on water ecology, civic engagement, activism, and architecture.
Questions about this event? 
Email Constanza Mendoza, A&BC's Director of Programs, at cmendoza@artsbiz-chicago.org