When:
August 24, 2022 @ 10:00 am – 11:30 am
2022-08-24T10:00:00-05:00
2022-08-24T11:30:00-05:00
On BOARD® Lab: Strategic Planning for Nonprofits 
On BOARD® is the Arts & Business Council of Chicago's unique board governance and leadership training program that prepares individuals who are ready to engage as active board members of arts, cultural, and creative nonprofit organizations. Individuals who successfully complete the full program demonstrate an understanding and commitment to upholding high standards of nonprofit board governance.
Who is encouraged to attend: Senior Staff and Board Members
Strategic Planning for Nonprofits is part 2 of 4 in the full On BOARD® curriculum.
Topics include:
General governance and the role of Board of Directors in strategic planning
Advantages of creating and using a strategic plan
How to approach the strategic planning process
Methodologies used for pre-planning and organizational assessments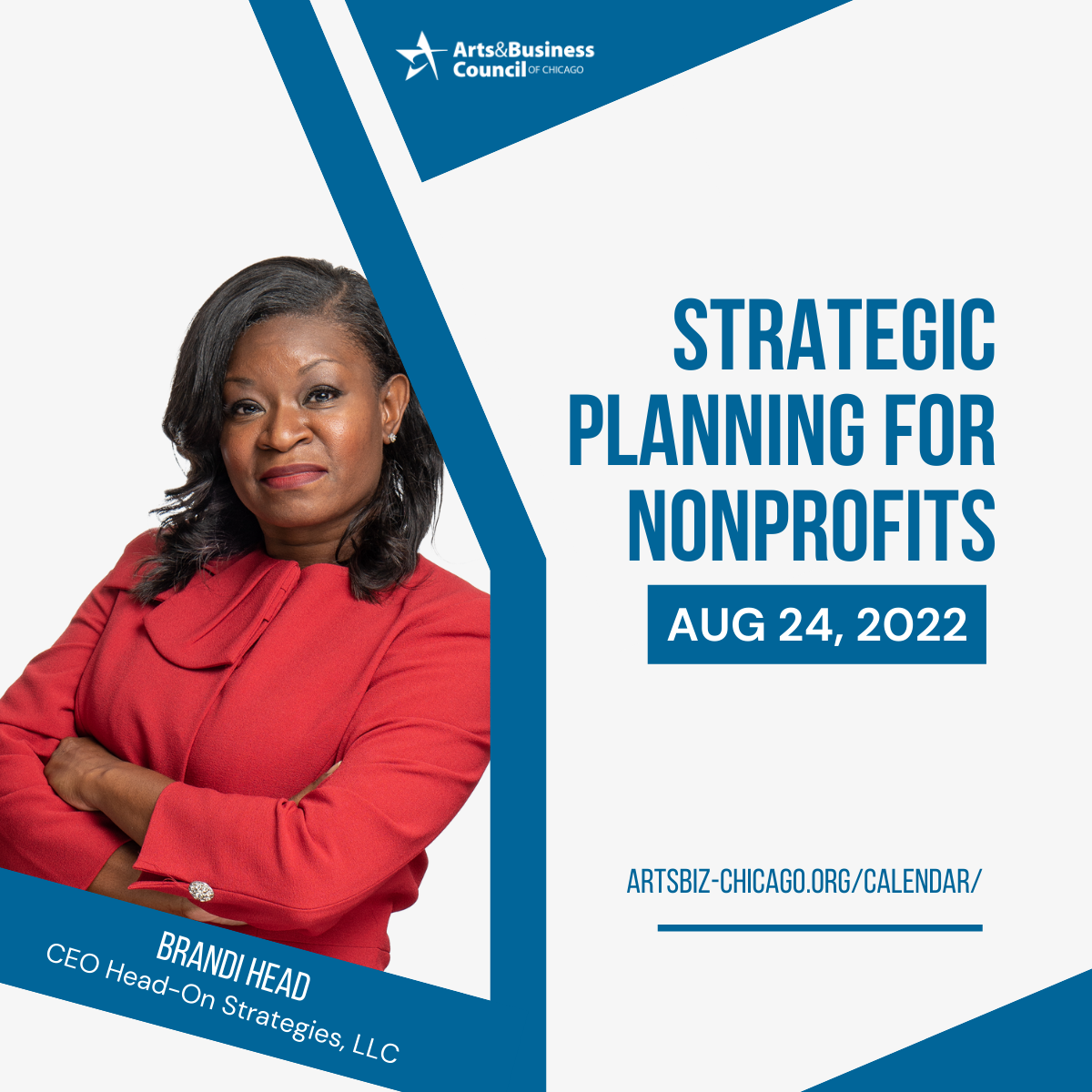 Content Expert: Brandi Head, CEO Head-On Strategies, LLC
Price: $ 50
We are currently unable to provide financial assistance for our On BOARD sessions, but we are offering a 2×1 opportunity. Register for this session, and we will contact you via email to ask for the second attendee's contact information.  
About the context expert
Brandi Head (she/her) possesses more than 20 years of business experience and finance acumen, which she employs while coaching small business and nonprofit clients. She has a passion for helping promising entrepreneurs and nonprofit leaders achieve their strategic goals and build solid, thriving organizations. That passion prompted her to start Head-On Strategies, LLC which provides consulting, advisory, and implementation services to small businesses and nonprofit organizations, meeting them wherever they are in their business life cycles. Whether her clients are start-ups or at key inflection points, Brandi is positioned to help businesses develop data-driven strategies and solutions that work.
Additionally, she believes that her technical expertise is only one piece of the advisory puzzle; experience, perspective, and meaningful connection withpeople, organizations, and community complete that puzzle. While working in Commercial Banking (inclusive of Commercial Real Estate), Credit Risk, and Operations Management at blue-chip financial services firms, she has helped business clients and local governments secure financing for their various needs.
As a member of several corporate leadership and project teams, she has spearheaded several key initiatives and has been asked to lead outside of her primary roles, including in Financial Policy, Diversity, Equity & Inclusion (DEI), and Employee Engagement. Her contributions have benefited her previous clients and employers in terms of growth, cost reduction, and branding.
Brandi has also been a member of various project teams that helped nonprofits with finance strategy, marketing plans, and feasibility studies/strategic alignment. Brandi has an MBA from Purdue University, as well as company-sponsored executive education from Kellogg School of Management. She has served on several boards and committees and currently sits on the board of directors for Red Clay Dance Company where she has been responsible for operationalizing its Finance Committee, including charter creation and policy development, and helping to set long-range financial strategy.