Monica P. Campbell
Procurement Strategic Programs Lead
BP North America Fuels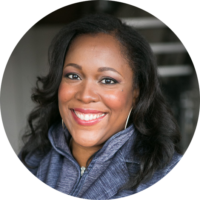 What do you love most about volunteering with A&BC?
I loved the exposure to unique organizations with great missions/programming in Chicago, and meeting and working with new, smart, enthusiastic people.
What does volunteering add to your life?
It allows me to use and sharpen my skills in a different context with appreciative and committed clients, reminds me to be grateful, and gives me a sense of purpose over and above my day job.
What are some of your other interests?
Running – 5ks to ½ marathons
Dancing – love taking and trying new dance classes
Music – I'm just starting to learn the bass guitar!
What goals have you helped organizations reach/other A&BC-related achievements?
One of my skills is the ability to organize and plan; I think some of my greatest contributions to the organizations I support are detailed project and strategic plans. I enjoy and use the planning process to get people engaged and motivated behind a goal.
Fun stuff: favorite food, pets, season, etc.
I live with my dog, Charlie (note I didn't say I own a pet – he runs the house and thinks I visit him between work, volunteering and other commitments outside of home!) I love fall –  the sweaters, boots, scarves, etc;  change of scenery, and time to reflect, rethink and plan again for the year.