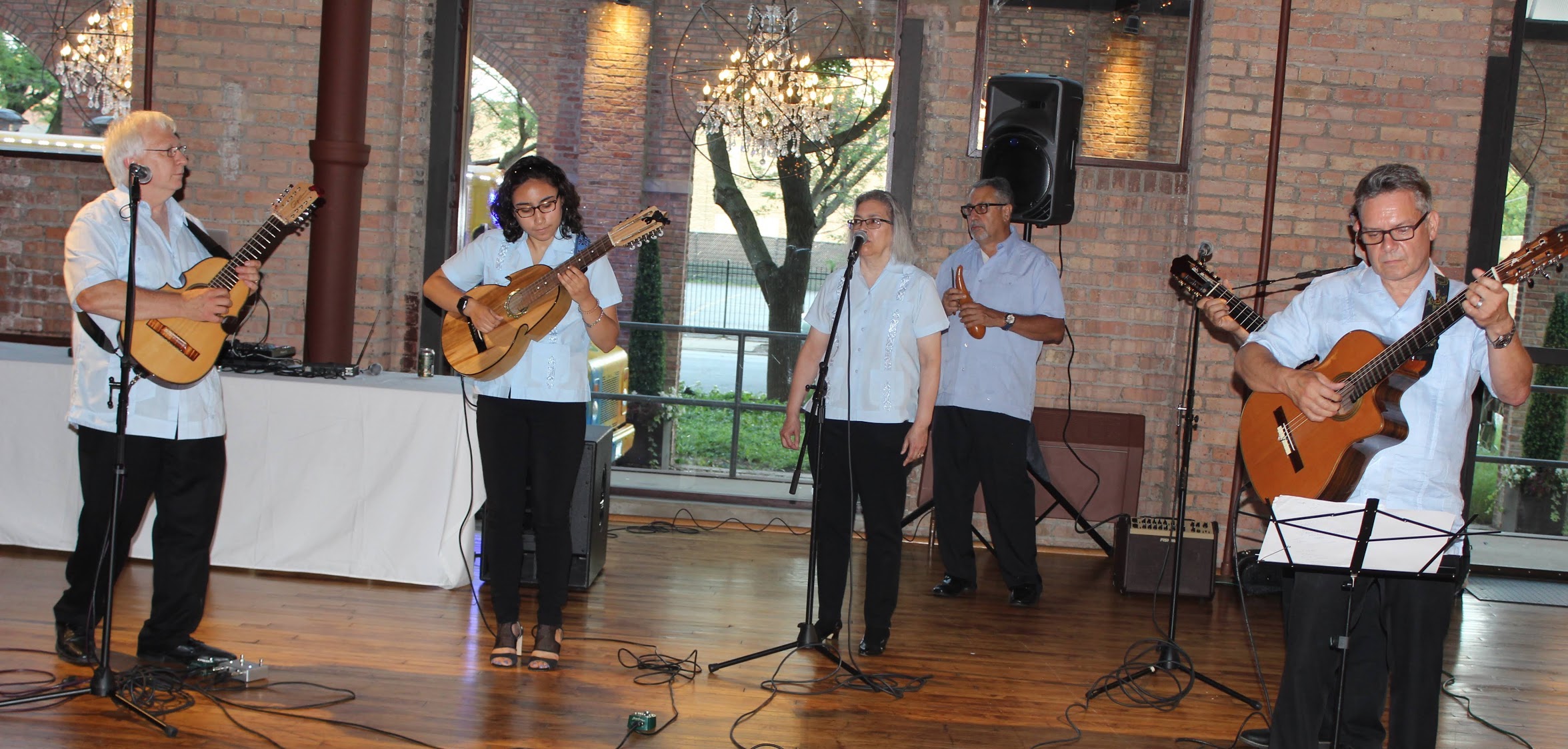 The Chicago Cuatro Orchestra Project, Summer Bash, 2019, Bridgeport Art Center. Photo: Pierre Clark
The Arts & Business Council of Chicago (A&BC) ushered in another year of service by bringing communities together for Summer Bash, an annual summertime fundraiser.
Approximately 60 of A&BC's supporters and partners braved the Thursday, July 18th intermittent storms and blazing heat for this jubilant evening of entertainment, relationship building, and cool drinks. Setting the stage and backdrop for the 34th birthday celebration: Bridgeport Art Center—the creative home for many Bridgeport area artists, nonprofits, and creative businesses—graciously provided by Paul Levy, former A&BC board chair and Vice President of Prairie Management Corporation.
This year's celebration begin early evening with an entryway greeting from The Chicago Cuatro Orchestra Project and a lively mixed set by DJ C (Jake Trussell). Throughout the evening, guests explored a market of local artists and creative businesses; the Mexican flavors of food truck Tazacos Gourmet Tacos; and a fun, expressive space courtesy of Vivid Image photobooth. Adding fun to the evening's festivities were complimentary sweets by Panache Ganache and a generous supply of libations courtesy of Marz Community Brewing Co., Aldi's, and Aloe'$ Truck.
Kristin Larsen, A&BC executive director, took the opportunity to announce the organization's community-focused goals for 2020: Work supporting theaters owned, operating, and serving communities of color as well as ANNEXES—an extension of A&BC into community areas. Harvard Business School Club of Chicago's (HBSCC) Lauren Richardson added to the announcement by introducing the HBSCC Community Impact Scholar program, a pilot project realized in partnership with A&BC. The Chicago Cuatro Orchestra Project closed the evening with a performance of traditional Puerto Rican Cuatro repertoire.
Summer Bash celebrated A&BC's work and the many Chicagoans who make it happen. In attendance were: Richard H. Driehaus Foundation Executive Director Anne Lazar and Program Officer Laura Trejo; Jennifer Novak-Leonard, director of the Northwestern University MS in Leadership for Creative Enterprises program; New Life Centers of Chicagoland's Richelle Marve; Harvard Business School Club of Chicago's Chauncey Whitaker; Christine Grodecki, senior development officer of leadership giving at The Rotary Foundation of Rotary International; Intonation Music Development and Communications Director Beth King; and Andrew Holtz, Northern Trust senior vice president.

This event was made possible through the generosity of Bridgeport Art Center and Paul Levy, former A&BC board chair and VP, Prairie Management Corporation. Additional support came from Fact Finders Group, the Law Offices of Tanya D. Woods, and Kates Detective & Security Services Agency and Special Events Services, Inc. Proceeds from this event will support A&BC's goal of reaching all 77 of Chicago's community areas, by 2020.